It's been a pleasure to watch Google Talk enter the over-saturated niche of popular instant messages and then quickly dominate. I am Google Talk user myself. I can vaguely understand why I ultimately chose it over other IMs I would use; probably because most of my contacts have only one thing in common: Gtalk.
So today I am sharing a few best tips on how to make the most of your Gtalk: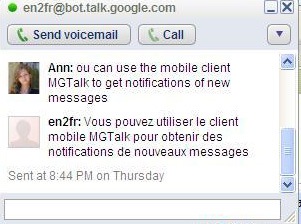 Translate using Google Talk (the feature runs on Google Translate). Just add any of the bots below (there may be many more) and send them messages of the text you want to translate):
| | |
| --- | --- |
| Bot | Translation |
| ar2en@bot.talk.google.com | from Arabic into English |
| de2en@bot.talk.google.com | from German into English |
| fr2en@bot.talk.google.com | from French into English |
| el2en@bot.talk.google.com | from Greek into English |
| es2es@bot.talk.google.com | from Spanish into English |
| ja2en@bot.talk.google.com | from Japanese into English |
| ko2en@bot.talk.google.com | from Korean into English |
| en2nl@bot.talk.google.com | from Dutch into English |
| ru2en@bot.talk.google.com | from Russian into English |
| zh2en@bot.talk.google.com | from Chinese into English |
Gtalk as a free and easy website live chat client:
You can place Gtalk button on your site and let your site visitors contact you using it. Create your Google Talk badge here;
Other IM Clients which works for Gtalk.
pidgin
Gajim
Gaim
eBuddy
Koppete
Digsby - The best !

And lot more
read more
Featured Google Talk client: Digsby
DigsBy is by far my favorite third-party Google talk application not because it offers some extra-ordinary Gmail possibilities (well, it does have some cool GTalk enhancements) but because it integrates all my major IMs and social media networks in one handy tool. The platform it supports include:
IMs: GTalk, AIM, Yahoo! Messenger, Facebook chat;
Email notifications: Gmail, Yahoo, Hotmail, AOL mail;
Social networks: Twitter, Facebook, LinkedIn, MySpace.
Some cool features I am personally using:
For each social network add as many accounts as you want;
Sort Gtalk (and other) contacts into groups (!);
Set tracking for any GTalk buddy: e.g. get notified when some person signs in or changes the status message;
See all the contact info when hovering over;
Sort contacts by name, status,
Reply right from the pop-up;
Manage multiple conversations with tabbed conversation windows;
Set your Facebook, Twitter and LinkedIn status right from Digsby;
Synchronize your settings and accounts between computers.
Download Digsby:
coming soon for Linux - Subscribe for newsletter



Chat Windows - Appearance
FaceBook - Twitter - Social Networking Integration !
Chat Notification - As well as Reply from Notification Directly !
Email Notifications and more.....